Product description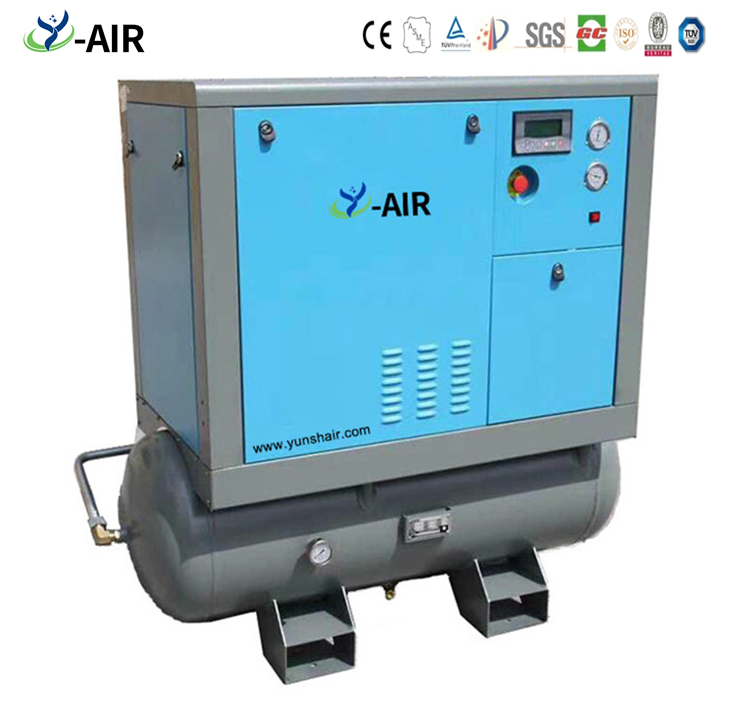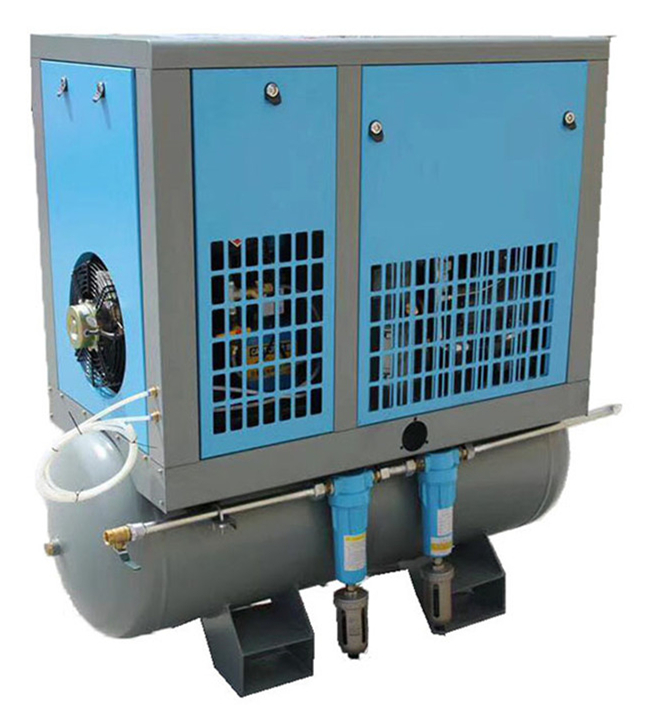 Brief Introduction:
Air end: German Technology. 30 years designed lifetime.
Motor: 100% rare earth permanent magnet motor.
Inverter: Chinese No. 1 inverter can save 30% energy.
Warranty: 5 years for the air end, and 2 years for the whole compressor.
Delivery time: 7-15 days.
After-sales service:we have our professional after-sales technician to instruct the installation of the whole screw air compressor.
We offer free pipe and valves for installation and installation diagram
Features:
1. Combined air compressor is integrated with air compressor, air dryer, filters and air tank.
2. Easy to use. Users can use high-quality compressed air when connected it to the power supply.
3. Complete system with no additional drying system or no connection piping installation cost.
4. It's convenient for use and movement.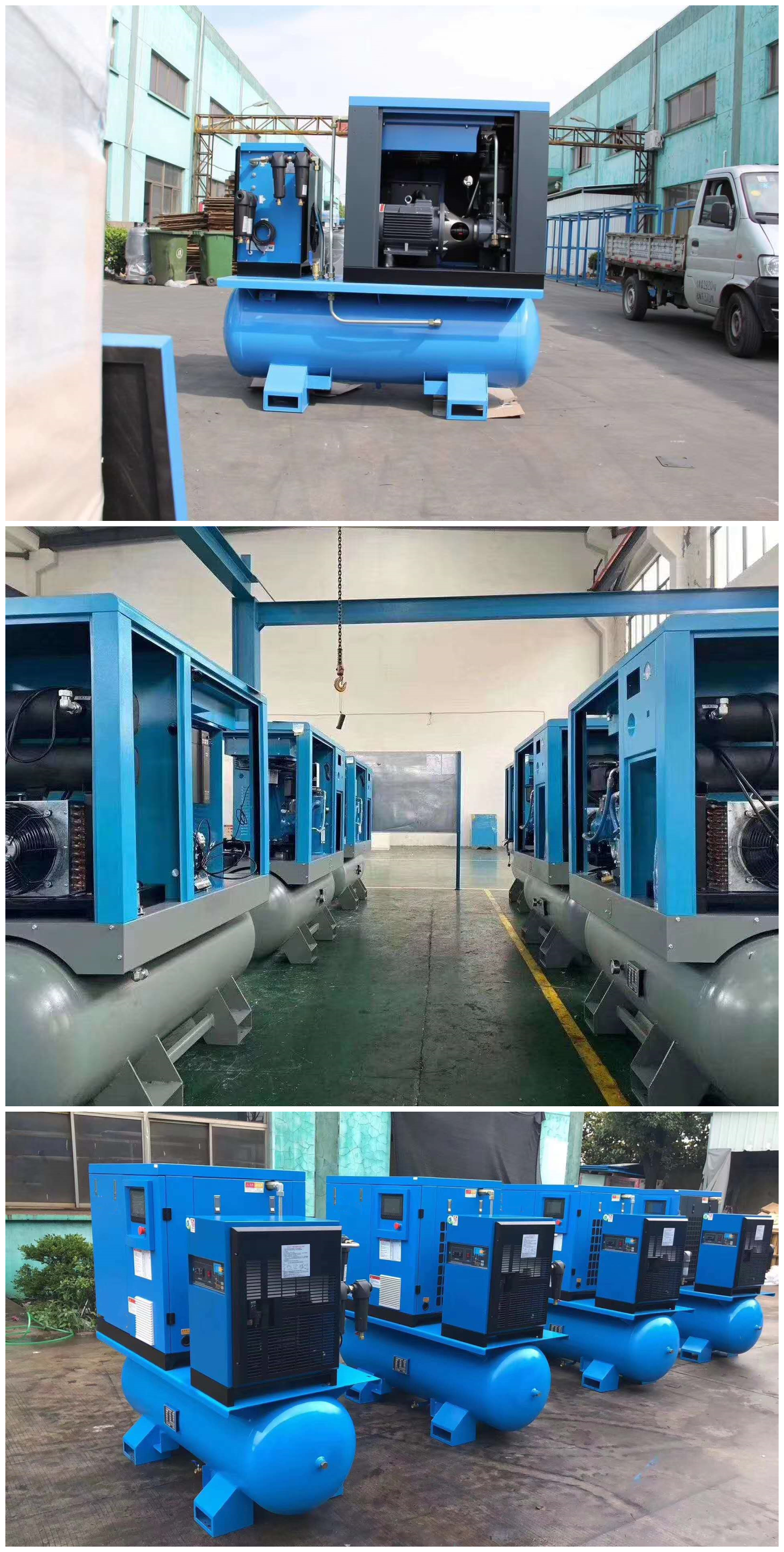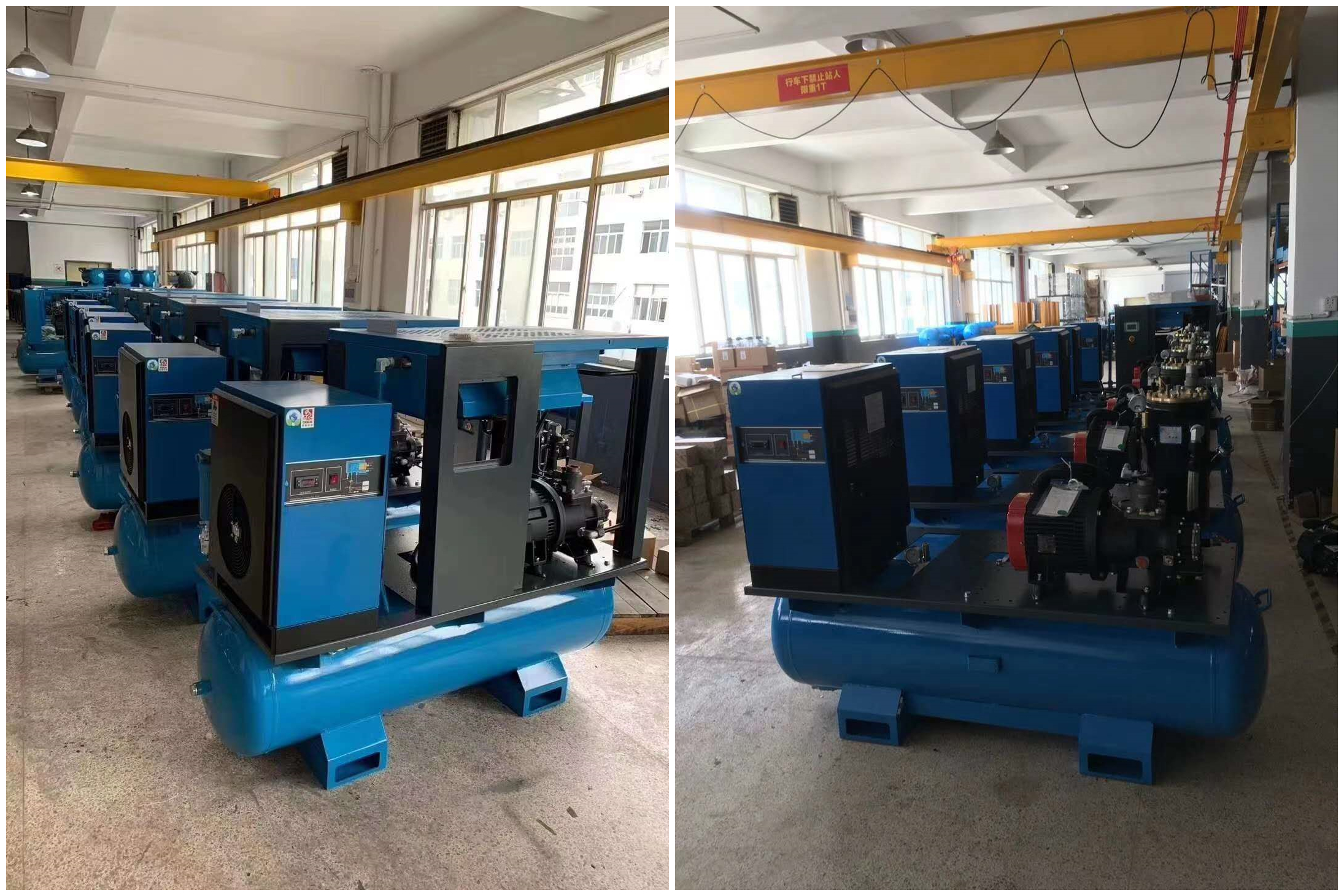 Advantages
1. Air end of screw air compressor
The air end is with state-of-the art screw element and 4 -6 SKF bearings to make sure it plenty of air output and longer lifetime.
2.Electric Motor of the air compressor
Name brand qualified IP54 ,F insulation, IE2 , IE3 motor , high efficiency and energy saving.
3. Intake valve of the screw air compressor
High efficiency intake valve protects the compressor components by removing 99% dirty particles down to 3 microns.
4. Oil Air separator
High efficiency separating for oil and air and low oil content in the compressed air.
5. Touch Screen Controller.
6. High efficient Centrifugal fan can give best cooling for screw compressor.
7.Dust proof mesh to protect electrical control system
Product Details


Model
Air Flow (m³/min)
Motor Power
Noise
Tank Volume
Outlet Diameter
Dimension
Weight
7bar
8bar
10bar
13bar
kw
dB
L
inch
W*D*H (mm)
kg
YC-7.5A
1.0
0.8
0.5
0.4
5.5
65
300
G3/4''
1650*730*1530
655
YC-10A
1.1
1.0
0.85
0.7
7.5
65
300
G3/4''
1650*730*1530
680
YC-15A
1.8
1.65
1.5
1.3
11
65
500
G1''
1955*800*1800
785
YC-20A
2.4
2.2
2.1
1.8
15
68
500
G1''
1955*800*1800
810
YC-25A
3.1
3.0
2.7
2.3
18.5
68
500
G1''
1960*1070*2012
910
YC-30A
3.8
3.6
3.2
2.5
22
68
500
G11/2''
1960*1070*2012
930
Remarks:
1. working ambinent temperature: -5℃-45℃;
2. exhausting air temperature ≤ working ambinent temperature +10℃-15℃;
3. starting mode: Y-△;
4. exhausting oil content: <3ppm;
5. certificate: CE/ISO9001/ASME;
6. voltage: 380V/220V/400V/440V/415V
Our Factory:
1. Starting from 2001;
2. With 8,000sq meters workshop;
3. With 6 production lines;
4. 500pcs production capacity per month.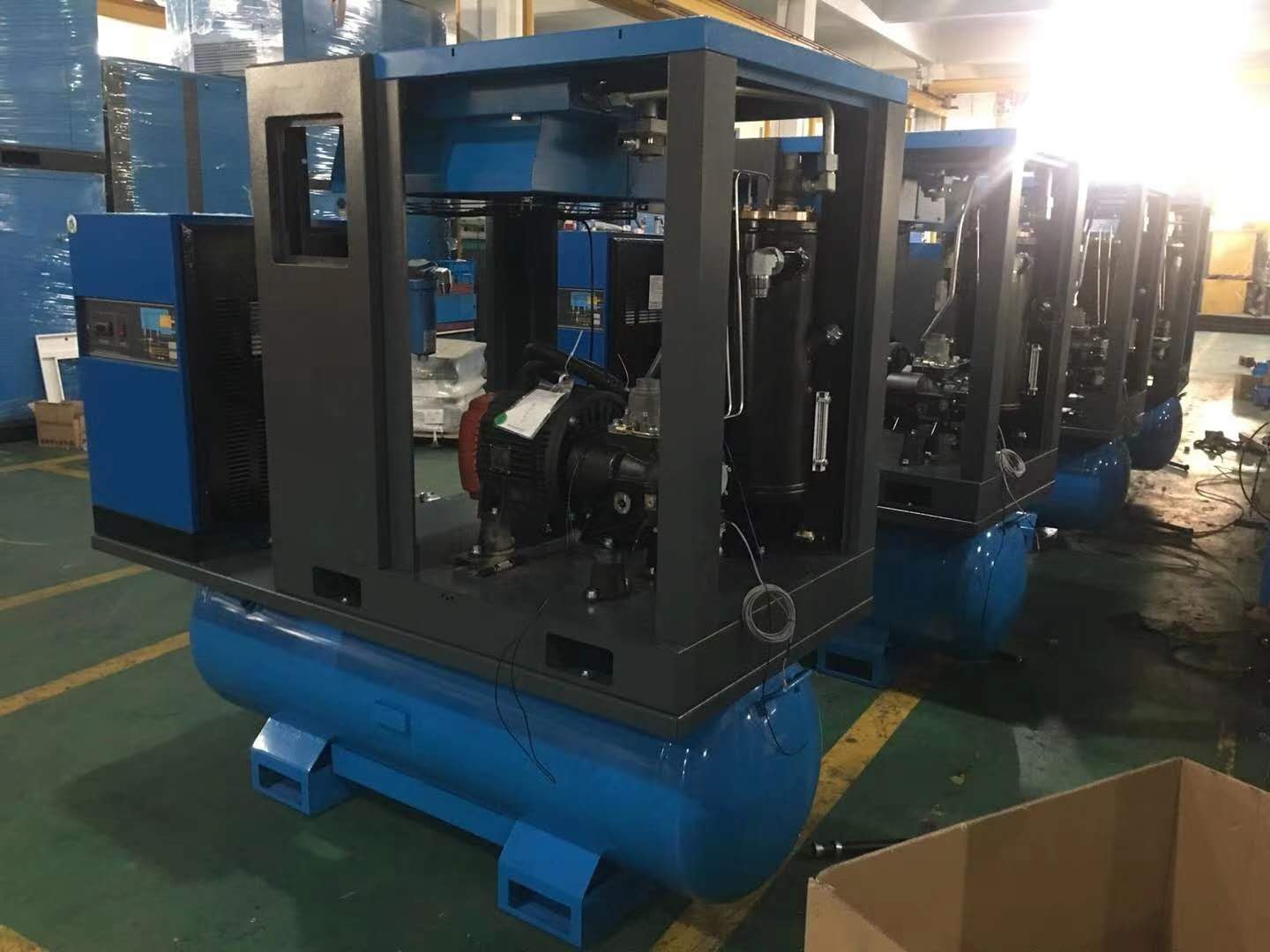 Our Certificates:
1. CE;
2. SGS;
3. ISO9001;
4. 12 patents for screw compressor.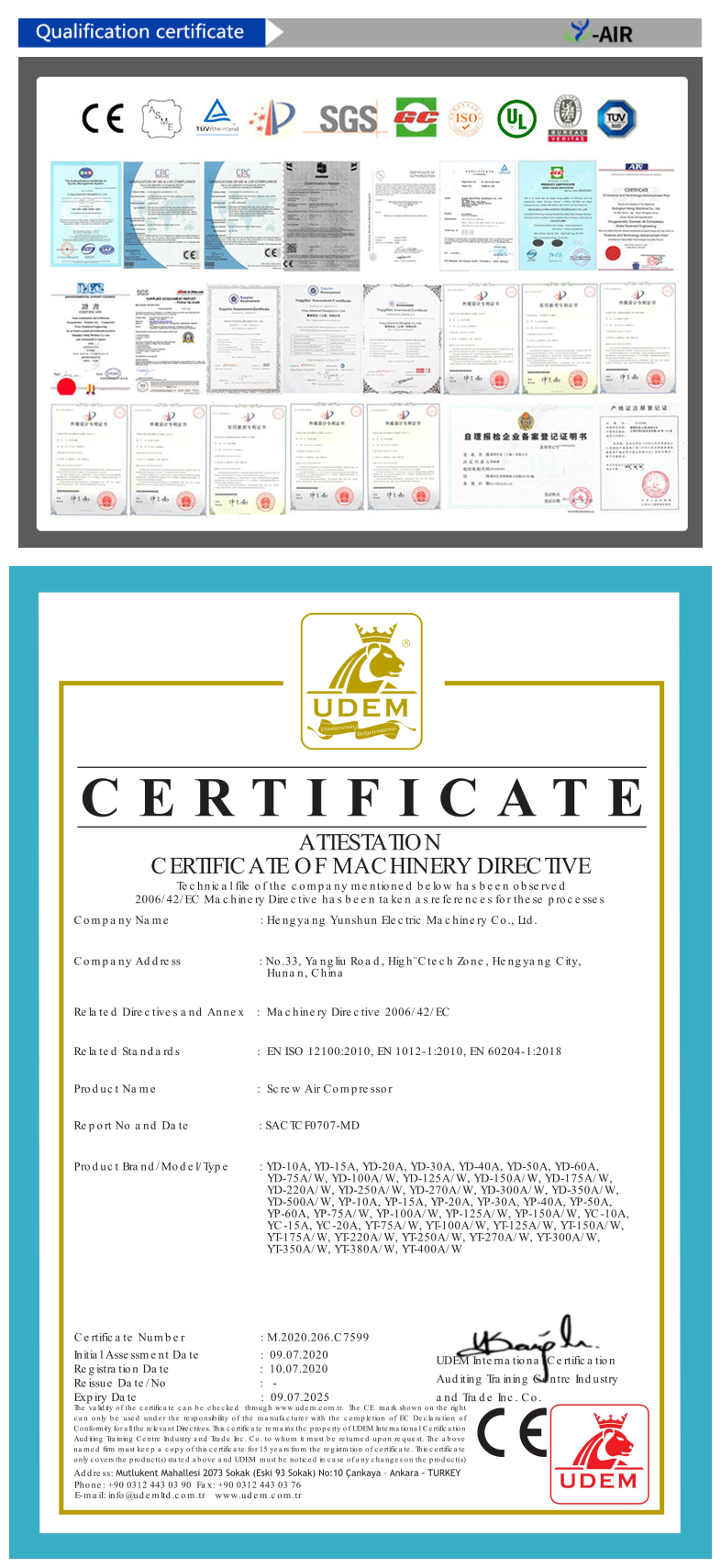 Use case of screw air compressor

1. Screw air compressors are exported to 132 countries and regions all over the world;

2. All indicators of screw air compressor are stable and the failure rate is low;

3. Perfect after-sales service system, engineers on duty 24 hours a day to provide one-on-one service to customers at the air compressor use site.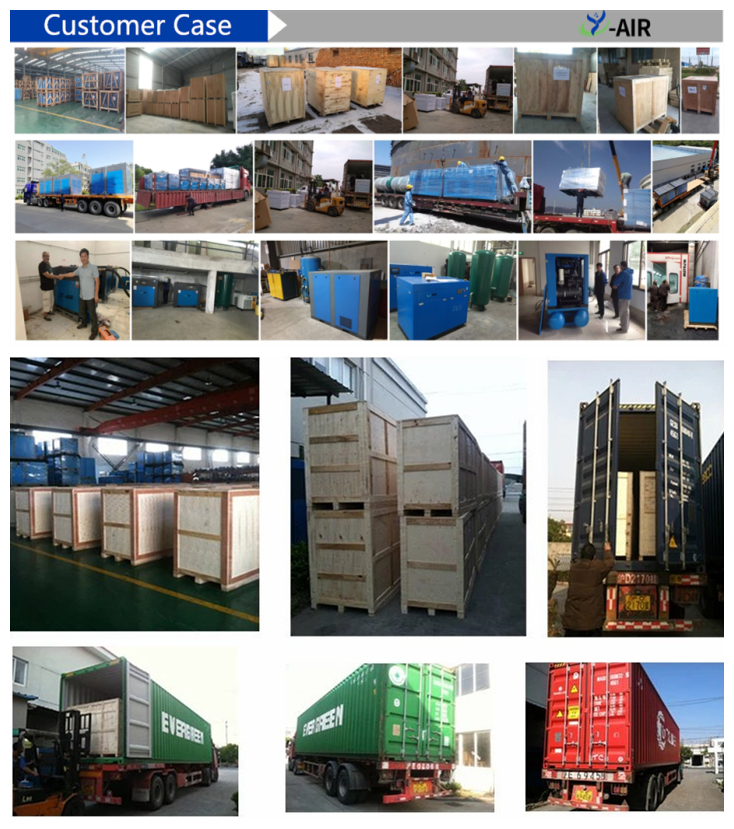 Re-factory quality control process:
1.Installation inspection of the whole air compressor: check and confirm the whole machine according to the operation instructions and quality control standards. Main inspection items:
A . Confirm the nose and motor nameplates;
B . Check whether there is oil leakage in the pipeline and oil circuit of the air compressor; C . the air compressor machine screw locking inspection..
2. air compressor factory test machine, heat engine: test whether the air compressor operation parameters meet the requirements of customers, including voltage, current, working pressure, exhaust volume, etc.Air compressor factory before 48 hours of thermal test, stability confirmation.
3. 24 hours online after-sales service, one-to-one online guidance installation, debugging, troubleshooting.
Screw Air compressor packing method

1. Screw air compressor packaging is divided into three layers from inside to outside:

1) The first layer of protection: spray paint on the surface of the machine to protect the surface of the machine. The fouling pull film is wrapped around the surface of the machine to protect the surface of the paint.

2) The second layer of protection: anti-collision protection of the machine. On the basis of lacquer protection, anti-collision buffer cotton is used to protect the machine against collision.

3) The third layer of protection: the case adopts the overall packaging of the non-fumigation wooden case to protect the machine during transportation.