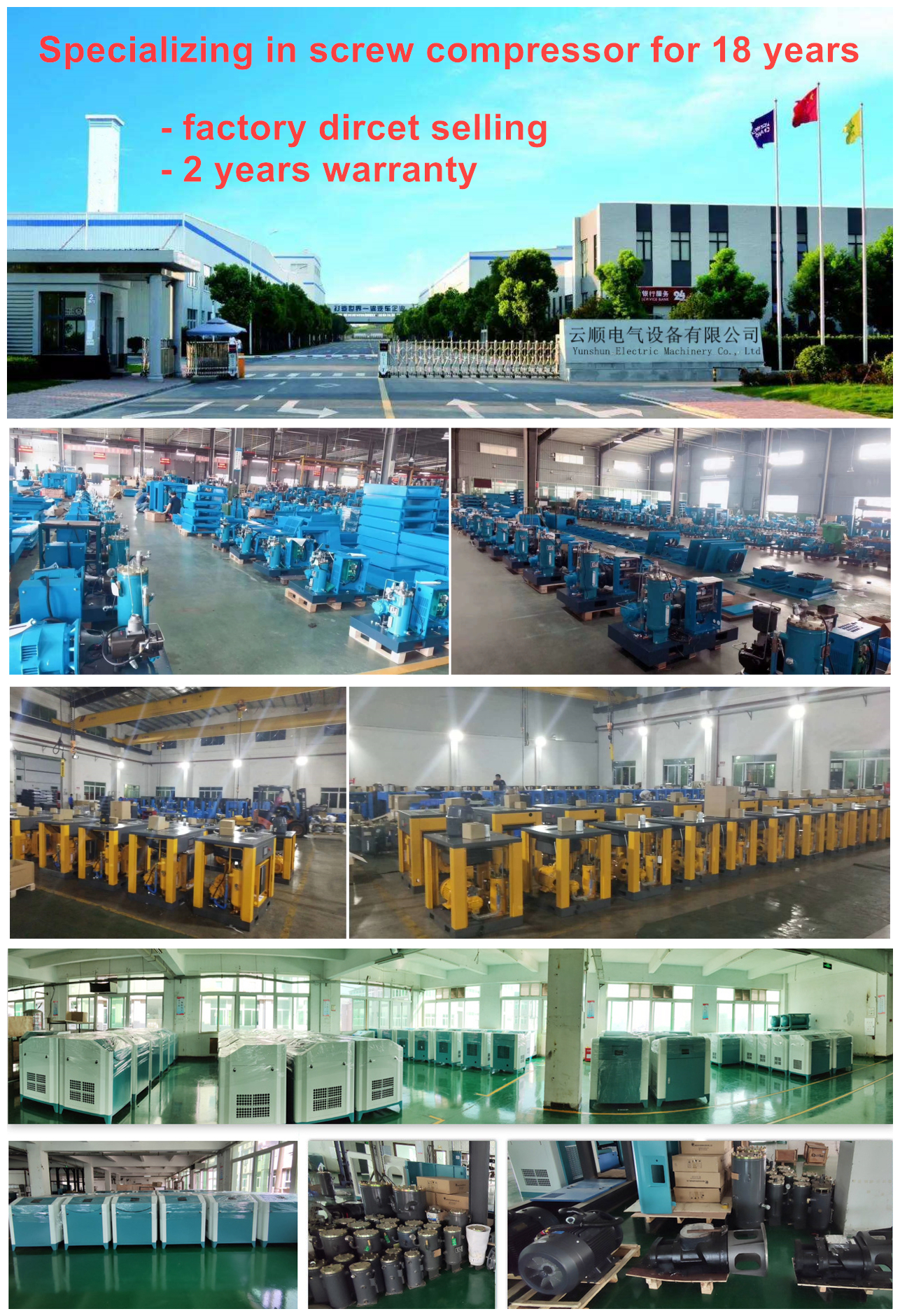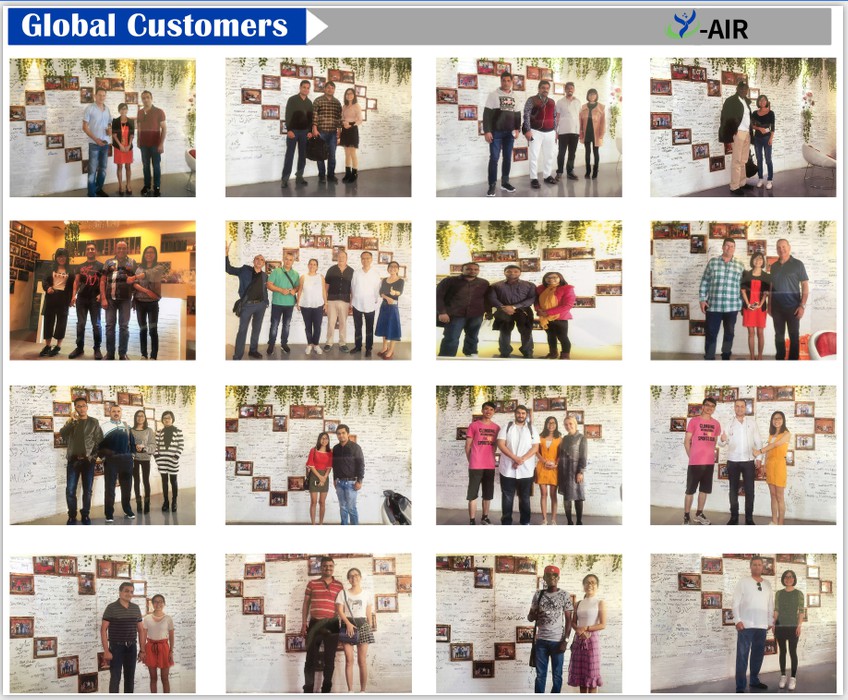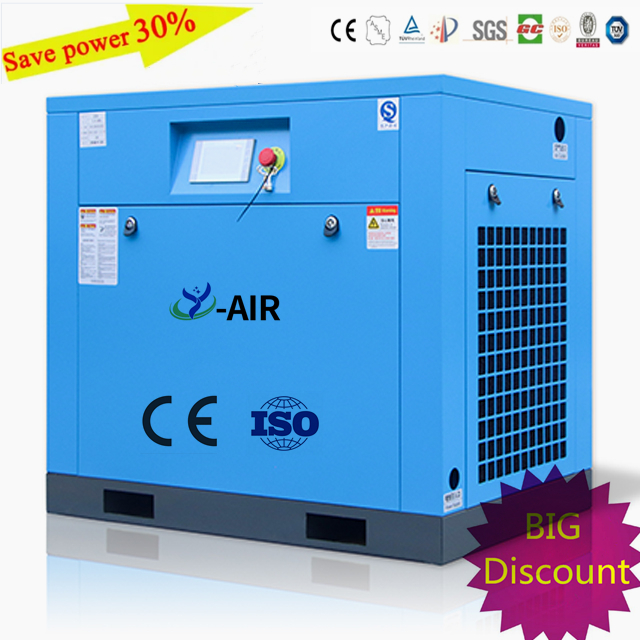 Features:
1. driven type: belt driven;
2. cooling method: air cooling;
3. imported air end with high efficiency;
4. bearing: SKF;
5. motor protection: IP54/55;
6. insulation class: F;
7. noise: 65dB;
8. exhausting oil content: <3ppm;
9. voltage: 380/220/415V;
10. air pressure: 7/8/10/13bar;
11. air capacity: 1.8/1.65/1.5/1.3m³/min.
Advantages
1 . Air end with high-efficiency
2. Double Screw with low noise, Super Silenced Enclosure
3. Elegant compact design. Fully open access door to inner parts for easy service.
4. 100% Continuous duty operation. Load/No Load operation
5. High quality CE Certificate industrial electric motors. ISO,CE,UL Certificate
6. Easy to use and read LCD control panel
7. High temperature, high pressure and anti-rotation shutdown
8. Energy efficient operation
9. 5 micron, water-resistant air filtration material
10. 2 year full machine warranty,5years air end warranty.
11. Supply the machine with different working voltage according to customer's request,
such as:
220Volt,single phase,60hz/50hz
220Volt,3 phase,60hz / 50hz
380Volt,3phase,50hz
440Volt,3phase,50hz
380Volt,3phase,60hz
We offer free pipe and valves for installation and installation diagram
Technical Specifications of screw air compressor
Model
Air Flow (m³/min)
Motor Power
Noise
Outlet Diameter
Dimension
Weight
7bar
8bar
10bar
13bar
kw
dB
inch
W*D*H

(mm)
kg
YD-7.5A
1.0

0.8

0.5

0.4

5.5
65
G3/4''
780*680*800
300
YD-10A
1.1

1.0

0.85

0.7

7.5
65
G3/4''
780*680*800
320
YD-15A
1.8

1.65

1.5

1.3

11
65
G3/4''
1100*800*980
400
YD-20A
2.4

2.2

2.1

1.8

15
68
G3/4''
1100*800*980
430
YD-25A
3.1

3.0

2.7

2.3

18.5
68
G1''
1250*870*1180
590
YD-30A
3.8

3.6

3.2

2.5

22
68
G1''
1250*870*1180
650
YD-40A
5.3

5.0

4.3

3.6

30
69
G1''
1250*870*1180
750
YD-50A
6.6

6.2

5.7

4.6

37
69
G11/2''
1540*950*1290
880
YD-60A
8.0

7.7

6.9

6.0

45
70
G11/2''
1540*950*1290
1000
YD-75A/W
10.5

9.8

8.7

7.3

55
70
G2''
1600*1150*1420
1500
YD-100A/W
13.6

13.0

11.3

10.1

75
72
G2''
2010*1260*1460
1900
YD-125A/W
16.2

15.4

13.2

11.2

90
72
DN50
2010*1260*1460
2500
YD-150A/W
20.8

19.5

16.5

13.7

110
73
DN65
2300*1600*1790
2800
YD-175A/W
24.0

23.0

20.0

15.5

132
74
DN65
2300*1600*1790
3000
YD-220A/W
27.8

26.0

23.5

19.5

160
75
DN80
2500*1700*1850
3500
YD-250A/W
32.5

31.0

26.0

21.6

185
76
DN80
2500*1700*1850
3800
YD-270A/W
34.5

33.0

28.0

23.5

200
77
DN80
2500*1700*1850
4200
YD-300A/W
38.0

36.5

32.0

27.0

220
78
DN100
2800*1900*1950
4800
YD-350A/W
43.0

40.5

36.5

32.0

250
80
DN100
2800*1900*1950
5200
YD-500A/W
76.0

75.3

65.4

59.0

400
83
DN125
4200*2200*2240
8200
Remarks:

1. "A" represents air cooling, and "W" represents water cooling

;

2. working ambinent temperature: -5

℃

-45

℃

;

3. exhausting air temperature ≤

working ambinent temperature +10

℃

-15

℃

;

4. starting mode: Y-

△

;

5. exhausting oil content:

<

3ppm;

6. certificate:

CE/ISO9001/ASME;
7. voltage:

380V/220V/400V/440V/415V

Product Details