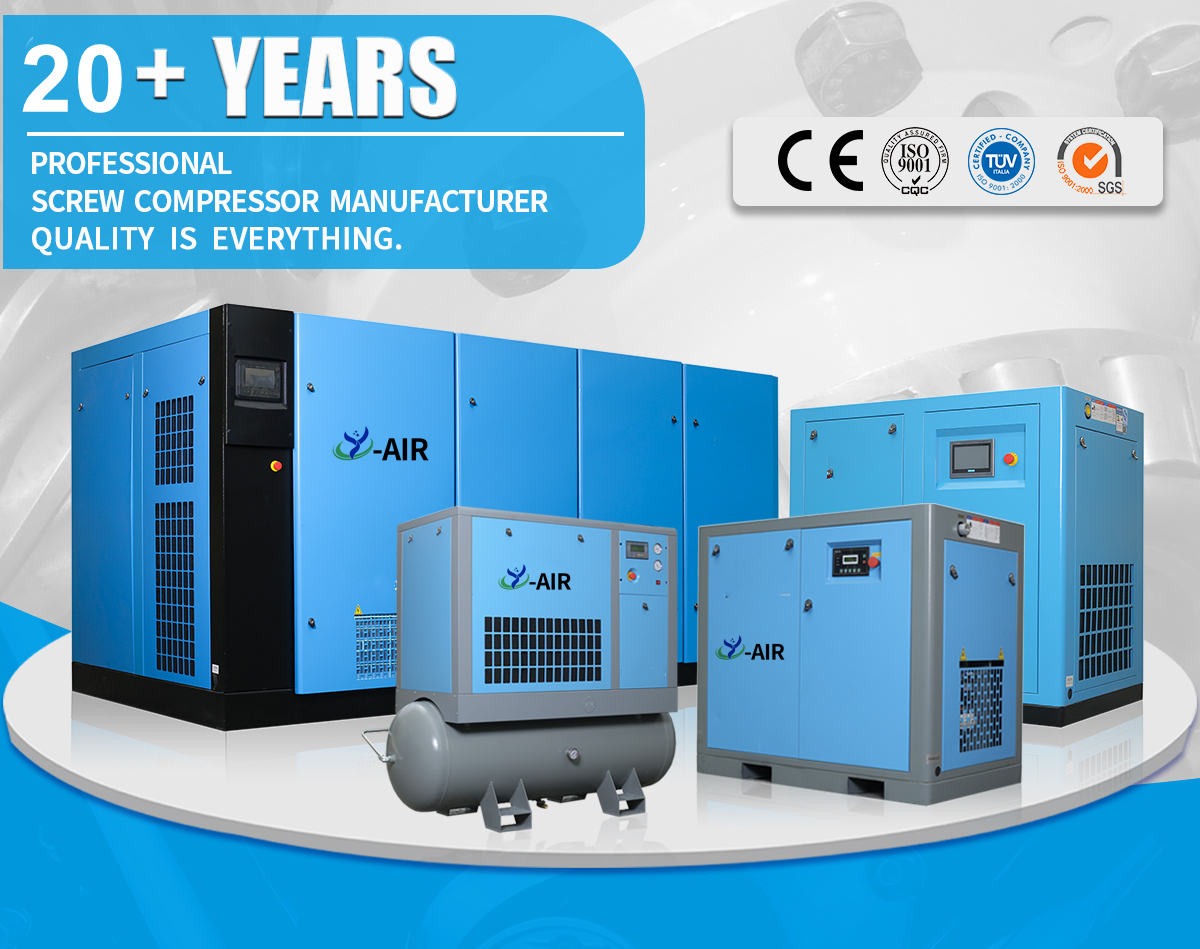 Model
Air Flow (m³/min)
Motor Power
Noise
Outlet Diameter
Dimension
Weight
7bar
8bar
10bar
13bar
kw
dB
inch
W*D*H

(mm)
kg
YP-10A
1.1

1.0

0.85

0.7

7.5
65
G1''
960*680*960
280
YP-15A
1.8

1.65

1.5

1.3

11
65
G1''
1050*830*1240
380
YP-20A
2.4

2.2

2.1

1.8

15
68
G1''
1050*830*1240
380
YP-25A
3.1

3.0

2.7

2.3

18.5
68
G1''
1200*830*1290
480
YP-30A
3.8

3.6

3.2

2.5

22
68
G1''
1200*830*1290
480
YP-40A
5.3

5.0

4.3

3.6

30
69
G11/2''
1300*1000*1540
710
YP-50A
6.6

6.2

5.7

4.6

37
69
G11/2''
1300*1000*1540
710
YP-60A
8.0

7.7

6.9

6.0

45
70
G11/2''
1500*1160*1700
990
YP-75A
10.5

9.8

8.7

7.3

55
70
G11/2''
1500*1160*1700
990
YP-100A
13.6

13.0

11.3

10.1

75
72
G2''
1700*1180*1800
1300
YP-125A
16.2

15.4

13.2

11.2

90
72
DN50
1850*1200*1900
1400
YP-150A
20.8

19.5

16.5

13.7

110
73
DN65
2250*1260*2055
1560
Remarks:

1. working ambinent temperature: -5

℃

-45

℃

;

2. exhausting air temperature ≤

working ambinent temperature +10

℃

-15

℃

;

3. starting mode: Y-

△

;

4. exhausting oil content:

<

3ppm;

5. certificate:

CE/ISO9001/ASME/SGS;
6. voltage:

380V/220V/230V/400V/440V/415V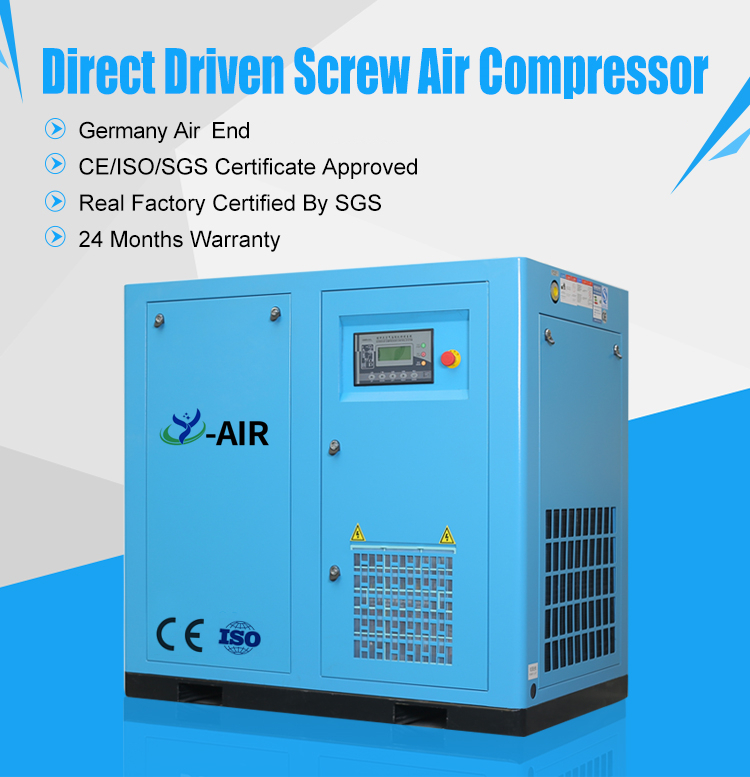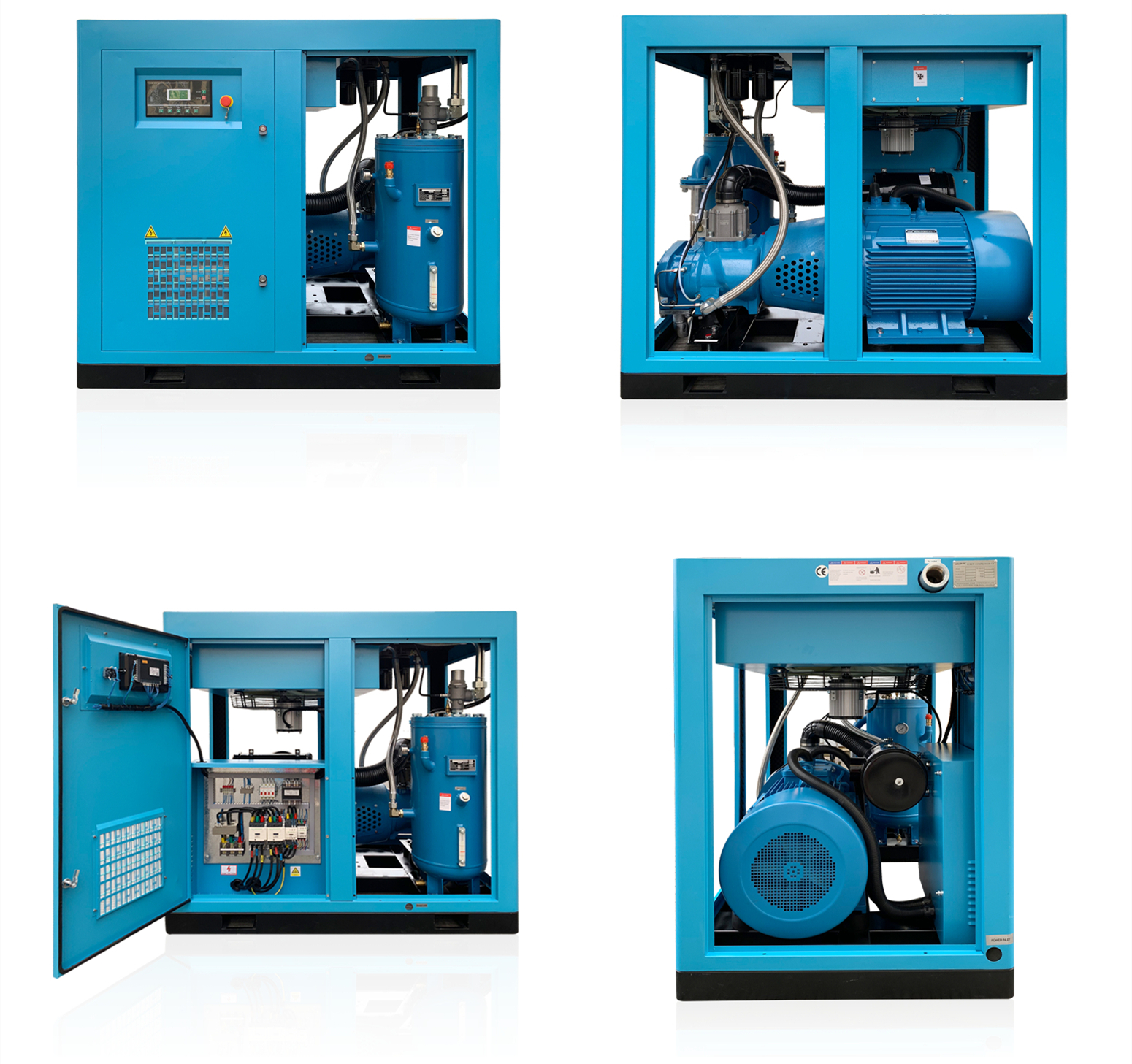 Brief introduction of factory:
1. We have been engaged in r & D, production and sales of air compressors for 19 years;
2. Our air compressor products through CE,SGS,ISO certification, with more than 20 invention patents;
3. Our products are exported to 132 countries and regions around the world;
4. Our air compressor provides a 5-year warranty.
If you have specific parameters and requirements for our Rotary Screw Type Air Compressor, customization is available
Promises Every Machine Will Run Well More Than 15 years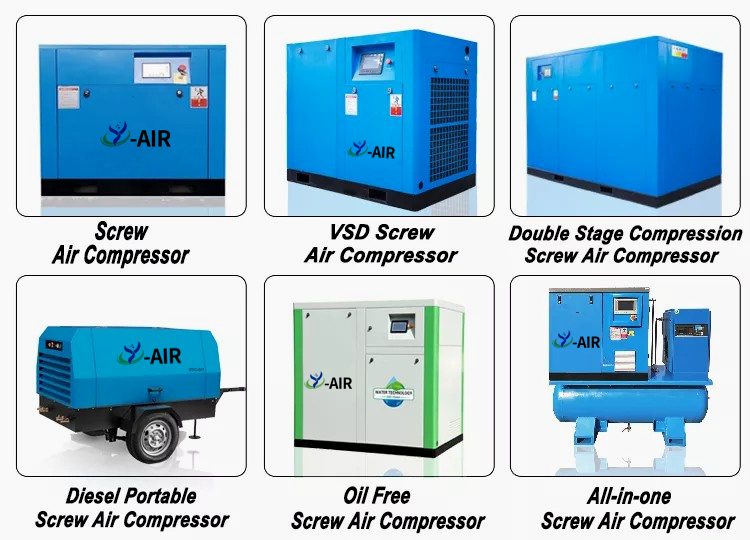 1.Direct Drive screw air compressor

Oilless air compressors

2.rotary screw air compressor

PM VSD scrw air compressor

3.screw type air compressor

Integrated screw air compressor

4.industrial air compressor

Combined screw compressor

5.Permanent Magnet air Compressor

Portable air compressor

6.Permanent Magnet screw air Compressor

Variable Speed air compressor

7.Permanent Magnet screw air Compressor

Silent air compressor

8.Inverter screw Compressor

Samll air compressor

9.Inverter air Compressor

two stage air compressor

10.variable frequency air compressor

high pressure air compressor

11.variable frequency screw air compressor

atlas copco air compressor

12.oil free air compressor

ingersoll rand screw compressor

15.oil less air compressor

electric air compressor

16.Stationary Screw Compressor

High air compressor
Advantages
1 . Air end with high-efficiency
2. Double Screw with low noise, Super Silenced Enclosure
3. Elegant compact design. Fully open access door to inner parts for easy service.
4. 100% Continuous duty operation. Load/No Load operation
5. High quality CE Certificate industrial electric motors. ISO,CE,UL Certificate
6. Easy to use and read LCD control panel
7. High temperature, high pressure and anti-rotation shutdown
8. Energy efficient operation
9. 5 micron, water-resistant air filtration material
10. 2 year full machine warranty,5years air end warranty.
11. Supply the machine with different working voltage according to customer's request,
such as:
220Volt,single phase,60hz/50hz
220Volt,3 phase,60hz / 50hz
380Volt,3phase,50hz
440Volt,3phase,50hz
380Volt,3phase,60hz
Factory Quality Control Process
1.Installation inspection of the whole screw air compressor: check and confirm the whole machine according to the operation instructions and quality control standards. Main inspection items:
A . Confirm the nose and motor nameplates;
B . Check whether there is oil leakage in the pipeline and oil circuit of the air compressor; C . the screw air compressor machine screw locking inspection..
2. Rotary screw type air compressor factory test machine, heat engine: test whether the air compressor operation parameters meet the requirements of customers, including voltage, current, working pressure, exhaust volume, etc.screw Air compressor factory before 48 hours of thermal test, stability confirmation.
3. 24 hours online after-sales service, one-to-one online guidance installation, debugging, troubleshooting.
Rotary Screw type air compressor packaging process
1. Screw air compressor packaging is divided into three layers from inside to outside:
1) The first layer of protection: spray paint on the surface of the machine to protect the surface of the machine. The fouling pull film is wrapped around the surface of the machine to protect the surface of the paint.
2) The second layer of protection: anti-collision protection of the machine. On the basis of lacquer protection, anti-collision buffer cotton is used to protect the machine against collision.
3) The third layer of protection: the case adopts the overall packaging of the non-fumigation wooden case to protect the machine during transportation.
Our Certificates:
1. CE;
2. SGS;
3. ISO9001;
4. 20 patents for screw compressor.