Product description of Y-Air 22kW 30hp 7bar Factory Manufacturer Germany Host IE4 High Efficiency Low Speed PM VSD One Stage Screw Air Compressor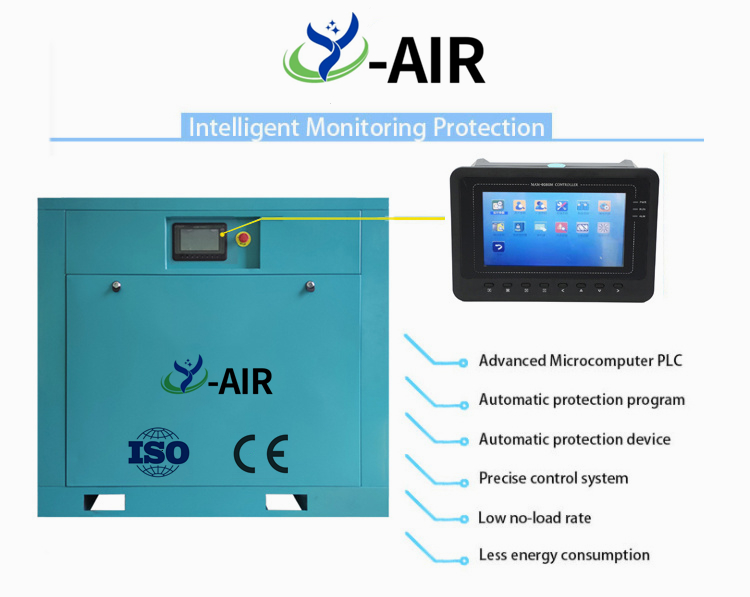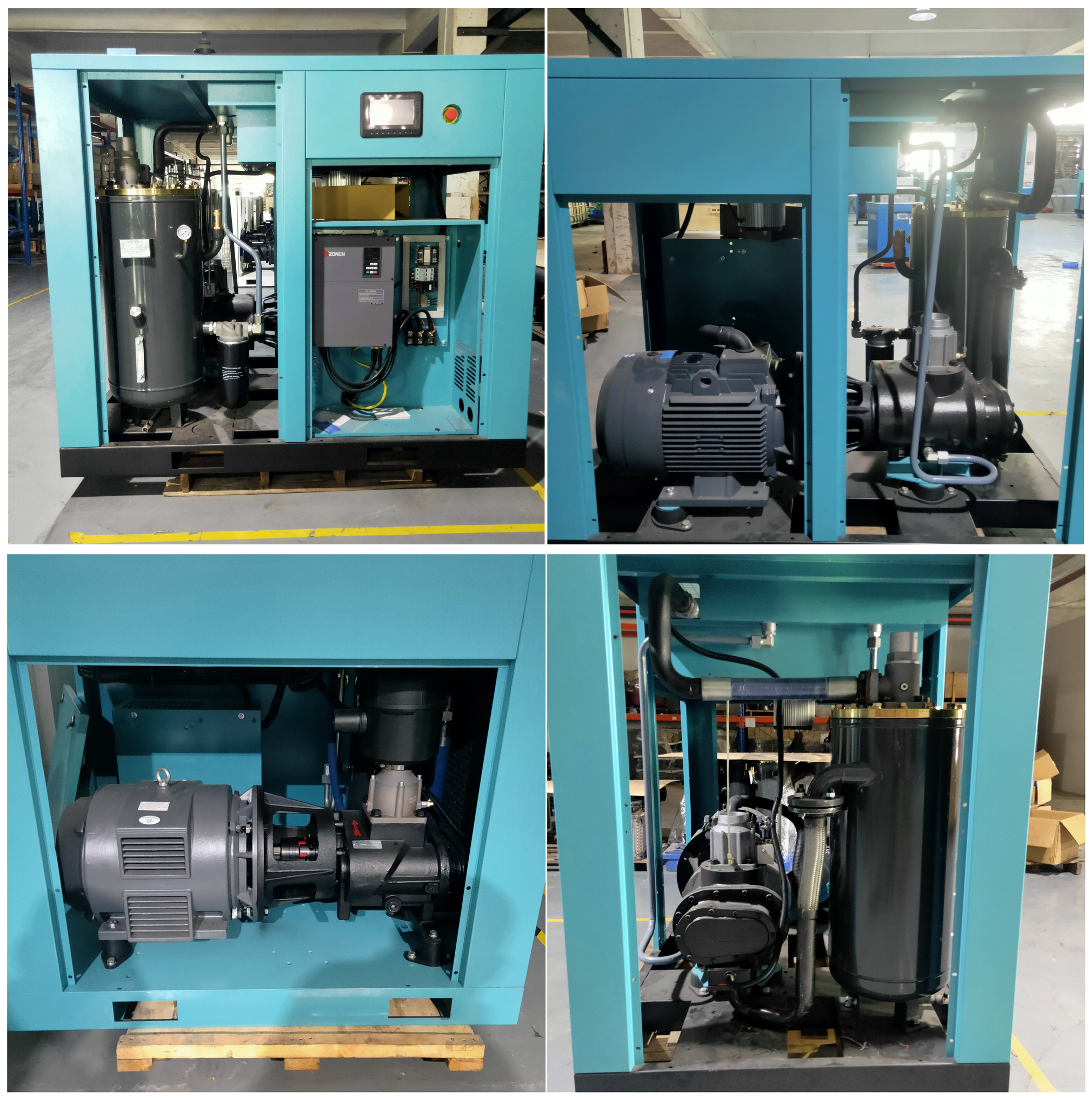 Brief Introduction:
Air end: Germany Technology. 30 years designed lifetime.
Motor: 100% rare earth permanent magnet motor.
Inverter: Chinese No. 1 inverter can save 30% energy.
Warranty: 5 years for the air end, and 2 years for the whole compressor.
Delivery time: 7-15 days.
After-sales service:we have our professional after-sales technician to instruct the installation of the whole screw air compressor.
Certificate: CE/SGS/ISO9001/ASME
We offer free pipe and valves for installation and installation diagram
Screw Air Compressor Main Configuration

Item

Parts

Brand

1

Air end

BAOSI/GU(Germany origin)

2

Intake Valve

Red star(Chian)

3

Solenoid Valve

CEME (Italy)

4

Temperature sensor

Red star (China)

5

Pressure sensor

Huba original (from Switzerland)

6

Motor

Jiangtian Motor( China)

7

Coupling

Germany KTR

8

Thermostat Valve

Italy VMC

9

PLC

MAM6080 MAM880 MAM860

10

Minimal Pressure Valve

Red star(Chian)

11

Air filter element

Germany MANN

12

Oil filter element

Germany MANN

13

Oil separator element

Germany MANN

14

Bearing

Sweden SKF
Product Details
of Y-Air 22kW 30hp 7bar Factory Manufacturer Germany Host IE4 High Efficiency Low Speed PM VSD One Stage Screw Air Compressor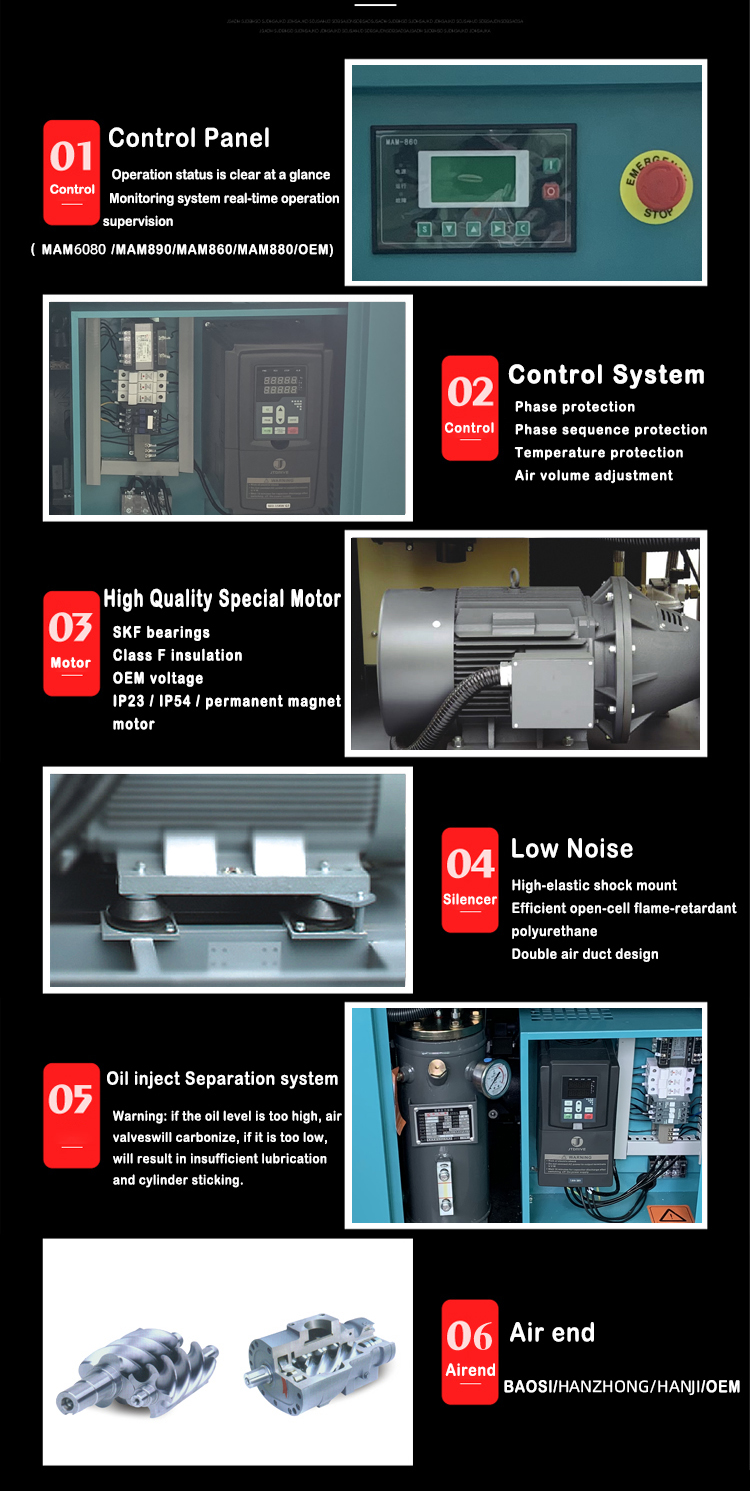 Main technical parameters of Y-Air 22kW 30hp 7bar Factory Manufacturer Germany Host IE4 High Efficiency Low Speed PM VSD One Stage Screw Air Compressor
Model
Air Flow (m³/min)
Motor Power
Noise
Outlet Diameter
Dimension
Weight
7bar
8bar
10bar
13bar
kw
dB
inch
W*D*H (mm)
kg
YP-10A
1.1
1.0
0.85
0.7
7.5
65
G1''
960*680*960
280
YP-15A
1.8
1.65
1.5
1.3
11
65
G1''
1050*830*1240
380
YP-20A
2.4
2.2
2.1
1.8
15
68
G1''
1050*830*1240
380
YP-25A
3.1
3.0
2.7
2.3
18.5
68
G1''
1200*830*1290
480
YP-30A
3.8
3.6
3.2
2.5
22
68
G1''
1200*830*1290
480
YP-40A
5.3
5.0
4.3
3.6
30
69
G11/2''
1300*1000*1540
710
YP-50A
6.6
6.2
5.7
4.6
37
69
G11/2''
1300*1000*1540
710
YP-60A
8.0
7.7
6.9
6.0
45
70
G11/2''
1500*1160*1700
990
YP-75A
10.5
9.8
8.7
7.3
55
70
G11/2''
1500*1160*1700
990
YP-100A
13.6
13.0
11.3
10.1
75
72
G2''
1700*1180*1800
1300
YP-125A
16.2
15.4
13.2
11.2
90
72
DN50
1850*1200*1900
1400
YP-150A
20.8
19.5
16.5
13.7
110
73
DN65
2250*1260*2055
1560
Remarks:
1. working ambinent temperature: -5℃-45℃;
2. exhausting air temperature ≤ working ambinent temperature +10℃-15℃;
3. starting mode: Y-△;
4. exhausting oil content: <3ppm;
5. certificate: CE/ISO9001/ASME/SGS;
6. voltage: 380V/220V/230V/400V/440V/415V
Product Advantage of Y-Air 22kW 30hp 7bar Factory Manufacturer Germany Host IE4 High Efficiency Low Speed PM VSD One Stage Screw Air Compressor
1.New generation of highly efficient imported host machine
2.Highly efficient permanent magnetic motor
3.SKF bearing
4.Highly efficient magnetic steel of permanent magnetic motor
5.Intelligent microcomputer control system
6.Energy-saving air inlet control system
7.Highly efficient cooling system
8.Highly efficient professional filtering system
Certificate: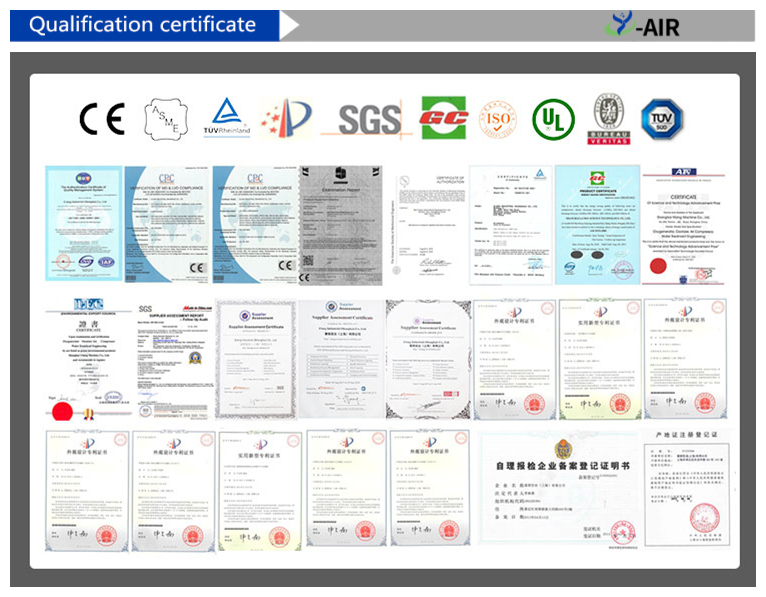 OUR TEAM